Knowledgable. Passionate. Caring. Setting the Bar in Dental Care is What We Do Best.
Our skillful & friendly team of professionals are committed to delivering the highest level of dental care with compassion and integrity, treating each patient just like family! We believe that as dentistry advances, our team should as well, so we encourage our treatment coordinators and dental assistants to participate in continuing education seminars while also providing regular opportunities to enhance skills through guided trainings. Our registered dental hygienists maintain strict licensure requirements to perform dental cleanings and provide therapeutic treatments for gum disease, utilizing advanced treatment methods to achieve patient goals. Together our team works together to ensure that each patient experience exceeds your highest expectations!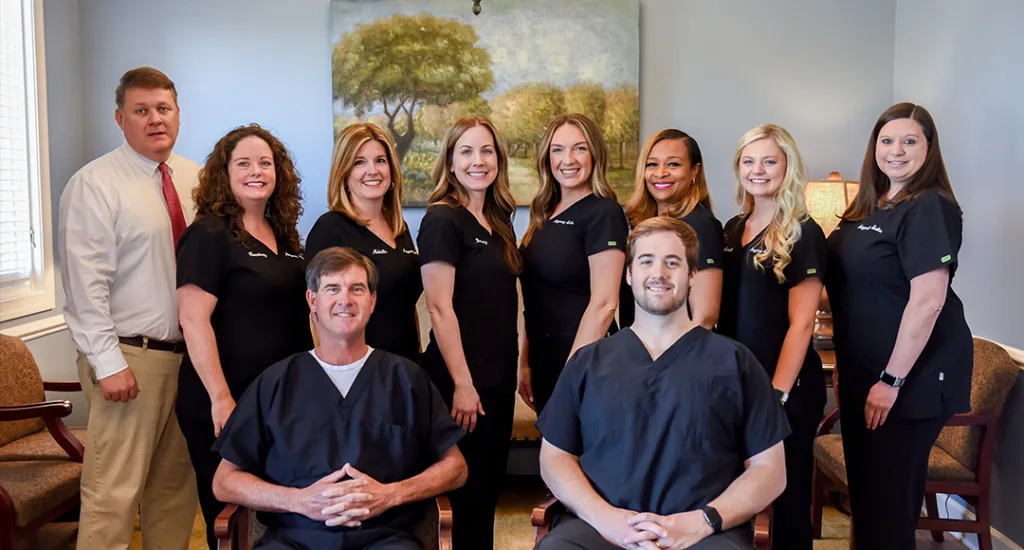 Montgomery Smiles is conveniently located in Mongtomery, AL, and is conveniently accessible to nearby cities of Prattville and Wetumpka. We want our patients to feel comfortable and right at home, so our reception and treatment rooms are tastefully designed to aid in your relaxation. With some of the most modern technological tools available in dentistry at our disposal, we can often make treatment faster and less invasive; some of these technologies include digital x-rays, ultrasonic instrumentation, and digital scanning (no more messy alginate impressions!). Above all, we recognize that all the bells and whistles in an office pale in comparison to quality of interactions with our team and so our continual focus remains on presenting a feeling of warmth and compassion. Our greatest hope is that you will enjoy the level of care you're receiving in our office so much that you tell your friends and family about us when recommending a new dentist!
Meet Our Montgomery Dentists
Our mission at Montgomery Smiles is to foster a partnership in oral healthcare with our patients, promoting life-long dental health and wellness using evidence-based studies to guide our recommendations. We want to help you achieve your goals for attaining a confident, healthy smile by providing the most modern dental care treatment that's accessible and affordable. Our team strives to create an atmosphere where you feel valued, respected, and like a member of our family.
Your health is our top priority at Montgomery Smiles. We are proud to employ safety standards for our patients that meet or exceed CDC guidelines and OSHA recommendations for cleaning, disinfecting, and sterilization of dental treatment areas. We encourage you to utilize proper face protection if you wish to take further measures to protect yourself from Covid-19 while in our waiting areas, and we are happy to furnish disposable face masks available for your use. If you are immuno-compromised or have any health concerns that you'd like to request an accommodation for, please do not hesitate to let us know!